Jobs
Railroad Training
Railroad Companies
RailroadJOBS.com Mission
At RailroadJOBS.com, we are committed to helping railroad workers find employment. Every feature on this site is
100% FREE
to both workers and employers, so there are no barriers to post and apply for jobs.
YOUR INPUT:
We are constantly looking for ways to help you find workers more effectively and cost efficiently. If you have an idea for a web site feature to improve our web site or your process for recruiting workers,
contact us
.
The Simple Power of RailroadJOBS.com for Employers
Railroadjobs.com uses cutting edge technology and a comprehensive database to empower railroad employers to effortlessly post jobs and view and track candidates. This technology is alerts viable candidates via e-mail the minute a job is posted on the site.
Simple and efficient.
One Click System for Railroad Workers
Simply upload your resume one time (storing in the RailroadJobs.com database). Once your resume is uploaded, applying for jobs is a simple as one click -- it's that easy.
Job Seekers
Apply for jobs and receive e-mail Job Alerts when jobs are posted in your area.
[ Register ]
Employers / Recruiters
Over 10,000 Railroad Candidates
FREE:

List your railroad jobs for free on our site. It's simple.
[ Join ]
-- Post Jobs Instantly --
Warning
Don't blow your chance at a $75,000 per year railroad job just because you didn't have the right information!
[ Buy ]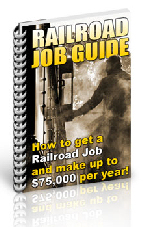 "The Best Selling Book"