Jobs
Railroad Training
Railroad Companies
Promote Your Railroad or Rail Line on our Web Site
RailroadJOBS.com offers your company a featured profile and promotion page.
[
View Napa Valley Railroad Example
]
What is included in my free listing?
If you would like to promote your railroad, rail line or company on our web site your company will receive a page with the following:
profile (3-5 paragraph description of your company and services)
contact information (web site, email, address, phone)
web site link
logo
How do I receive my free listing?
In order to receive your free listing, please submit a 3 to 5 paragraph article related to your company. Please include the following information when submitting:
Original Content - the content needs to be unique, meaning it can not currently appear on the Internet (now or future) or be plagiarized - your company will receive full credit as the author of the article
at least 3-5 paragraphs
relevant subject matter (i.e. railroad history, location, services)
your railroad's contact information - your business's description, contact information and logo (if you have one)
provide all graphic files (logos, etc.)
Next Steps
Please send your article, graphics and contact information to
railroad jobs
. You can also address all questions and inquires via our
Contact Us
page.
Railroad profile listing will be live in 24-48 hours from submission.
Post Your Railroad Job
You can post your company's railroad jobs for
free
on our web site. Simply, send register your company and post your job. [
Join and Post Jobs
]
Job listings are instantly live.
Employers / Recruiters
Over 10,000 Railroad Candidates
FREE:

List your railroad jobs for free on our site. It's simple.
[ Join ]
-- Post Jobs Instantly --
Job Seekers
Apply for jobs and receive e-mail Job Alerts when jobs are posted in your area.
[ Register ]
Warning
Don't blow your chance at a $75,000 per year railroad job just because you didn't have the right information!
[ Buy ]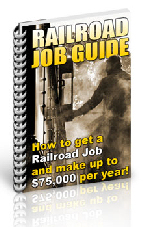 "The Best Selling Book"
Partners
Railroad Ties