Jobs
Railroad Training
Railroad Companies
Railroad Job Outlook
In a time when unemployment is unusually high and people are being pushed out of careers they have worked in for years, many have begun looking for new and creative work alternatives. What many fail to realize is that excellent
job opportunities are available in some very old, established industries
. One of the prime examples is railroad jobs.
Future Railroad Job Growth Projected for 2012 and 2013
The future outlook for railroad jobs in the next few years is very good according to the US Department of Labor. One reason is that as fuel costs rise rail transport is becoming increasingly economical, bringing new growth to an old industry. Another reason is that many of the present railroad workers are retiring, leaving a large vacancy in the industry. Naturally enough, almost no one in this industry is self-employed, and more than three quarters of the workers belong to unions. This means that wages tend to be quite high.
Salary Growth Projections for the Railroad Industry in 2012
Overall, workers can expect a 9-10 percent increase in railroad jobs over the next 6 years. While this percentage is not as large as some other industries, the total workers in railroad jobs number around 80,000. Even as new jobs are created, many of the existing workers will be replaced. Furthermore, this is a highly profitable industry. While most transportation jobs average around $13.15 per hour, railroad jobs average more than $20 per hour. Subway and streetcar operators (which also happens to be the fastest growing sector in railroad jobs) can expect more than $25.50 per hour. Railroad conductors and yardmasters will enjoy a similar wage, while brake, signal and switch operators can expect a little less than $23 per hour. Locomotive engineers and operators are paid $22.50 on average, and all other rail transportation workers receive an average wage of $21.10.
Railroad Job Opportunities for 2012 and 2013
There are several areas that will enjoy special growth or offer particular opportunities. As long as workers have a clean criminal and drug record, entry-level positions will be very available -- jobs such as
conductors
and brake operators. Another open area is for long-distance crews, since many of the current crews prefer not to travel. Finally, cities where commuter trains or subway systems are being installed will offer many new jobs, and these also tend to be the highest paying opportunities.
Railroad jobs are generally excellent opportunities with good benefits, high pay, and long-term stability. Those who enter this industry will start on an excellent career path.
[
View Current Railroad Job Openings
]
Job Seekers
Apply for jobs and receive e-mail Job Alerts when jobs are posted in your area.
[ Register ]
Employers / Recruiters
Over 10,000 Railroad Candidates
FREE:

List your railroad jobs for free on our site. It's simple.
[ Join ]
-- Post Jobs Instantly --
Warning
Don't blow your chance at a $75,000 per year railroad job just because you didn't have the right information!
[ Buy ]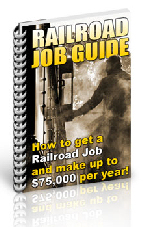 "The Best Selling Book"