Jobs
Railroad Training
Railroad Companies
Railroad Employers: Browse Railroad Resumes
View qualified resumes from those seeking employment in the railroad industry.

Below are just a sampling of the thousands of resumes in the railroad job online database. To view thousands of resumes of qualified workers, join for free.
Railroad Job Seekers: Get your resume featured below in our talent section by sending your resumes to jobs@railroadjobs.com.
Sampling of Railroad Worker Resumes as of January 20, 2019.
Maintenance of Way, Track Inspector, Foreman, Track Laborer, Equipment Operator
Mike Roberts
Signal Technician/Foreman
Brian Newton
Welder
Stephon Donaldson
Laborer
Jeff Miller
Conductor
Jeff Miller
Locomotive Mechanic
Robert Lawson
Track Repairman
Arnold Jones
Track Laborer / Inspector
Lou Tomassone
Maintenance of Way Coordinator and Manager, Engineering Logistics
Constance Curcio
Track Maintenance
Dustin Litchfield
Railyard Switchman
Charles Malone
Conductor Trainee, Hostler, Brakeman
Kayla Anderson
Licensed Locomotive Engineer
David Odonnell
Rail-way Engineer / Track Inspector
Anatoly Lunin
Senior Track Inspector
Kent Jackson
Train Dispatcher
Scott Peters
Track Welder, Assistant Track Inspector, Welding Supervisor, Roadmaster
Larry Vickers
Track Maintenance
James Pickens
Conductor / Locomotive Mechanic
Lee Cline
Locomotive Technician
Rodney Bubble
Railroad Maintenance Manager
Darius Phillips
Track Supervisor & Roadmaster
John Swangler
Locomotive Engineer / Crew Manager
Jonathan Lanier
Railroad Yard or Maintence
Benjamin Cook
Roadmaster, Track Inspector
Robert Adams
Railway Engineer /Railway Conductor
George Conohan
Switchman / Conductor
Michael Singleton
Train Dispatcher
Anthony Furman
General Superintendent in the Railroad Industry
Dan Priestas
Supervisor Railyard, Carman
Charles Lawrence Castro
Railroad Mechanic experience on EMD locomotives
Dale Brue
Locomotive Engineer
Lane De Vors
Industrial Truck Driver (Class A & B CDL driver)
Jack Martin
Locomotive Reliability Manager, Electrician
Jeffrey J. Schneider
View all the resumes in our online database,
join for free
.
Job Seekers
Apply for jobs and receive e-mail Job Alerts when jobs are posted in your area.
[ Register ]
Employers / Recruiters
Over 10,000 Railroad Candidates
FREE:

List your railroad jobs for free on our site. It's simple.
[ Join ]
-- Post Jobs Instantly --
Warning
Don't blow your chance at a $75,000 per year railroad job just because you didn't have the right information!
[ Buy ]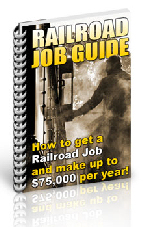 "The Best Selling Book"