Jobs
Railroad Training
Railroad Companies
Terms, Conditions and Disclaimers: By accessing this web site, you agree to be bound by all of these terms and conditions.
Use of this Web Site: Although this site is intended to provide accurate and timely information, the site's content may not be accurate, complete or current. It may also include technical inaccuracies or typographical errors. This site is subject to change without notice. The products, services, and any other information linked or described on this site may change at any time. The information published on this site is provided as a convenience to visitors and is for informational purposes only. You should verify all information. before relying on it or obtaining it and decisions based on information contained in this site are your sole responsibility.
Privacy: RailroadJobs.com is dedicated to providing members and visitors with the highest standards of privacy. We follow all industry standards and guidelines to maintain a high level of integrity. Spam is never allowed by RailroadJobs.com. If we discover that any member has sent spam, we will terminate our relationship with that party immediately. Most Importantly: , RailroadJobs.com does not share any information regarding our advertisers, unless authorized to do so. If you find that any part of this policy has been violated, please contact us via our Feedback/Questions page immediately.
[an error occurred while processing this directive]
Job Seekers
Apply for jobs and receive e-mail Job Alerts when jobs are posted in your area.
[ Register ]
Employers / Recruiters
Over 10,000 Railroad Candidates
FREE:

List your railroad jobs for free on our site. It's simple.
[ Join ]
-- Post Jobs Instantly --
Warning
Don't blow your chance at a $75,000 per year railroad job just because you didn't have the right information!
[ Buy ]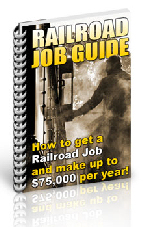 "The Best Selling Book"